New Concentration Added to UM-Flint Doctor of Nursing Practice
The University of Michigan-Flint's Nursing Department is adding a fourth concentration to its Doctor of Nursing Practice (DNP) program, acute care Nurse Practitioner (NP).
Currently, the DNP has concentrations in Adult/Gerontology Nurse Practitioner, Family Nurse Practitioner, and Adult Psychiatric Mental Health Nurse Practitioner.
"In every class of our DNP students, there have been several who have wanted to stay in the hospital setting as a Nurse Practitioner," said Connie Creech, director of Graduate Nursing Programs. "The acute care Nurse Practitioner (NP) is a high demand specialty that many generic RN students at UM-Flint have also expressed interest in."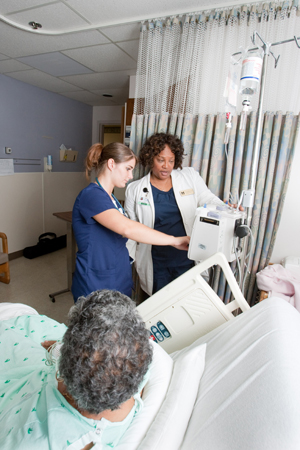 Because the majority of nurses work in hospitals, they are already familiar with the role of an acute care NP who manages the care of serious and critically ill hospitalized patients.
According to Creech, the NP will fill an important role in Flint and surrounding communities for medical centers, hospitals, and specialist physicians.
The Acute Care Nurse Practitioner Program recently received approval from the Presidents Council, State Universities of Michigan, and will be offered in fall 2013.
Contact University Communications & Marketing with comments, questions, or story ideas.