UM-Flint Names New Assistant Vice Chancellor for Student Affairs
The appointment of Michelle Oksana Rosynsky Ed.D. as assistant vice chancellor for the Division of Student Affairs was recently approved by the University of Michigan Board of Regents.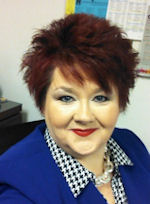 Rosynsky reports directly to Vice Chancellor Mary Jo Sekelsky, shares responsibility for shaping the division's future direction, engages constituents in division-wide enterprises, administers special projects, and provides supervision for Student Conduct; Student Life; Fraternity and Sorority Life; Student Leadership Development; Club Sports; and the Lesbian, Gay, Bisexual and Transgender (LGBT) Center.
A national search brought her to the University of Michigan-Flint in 2005 as director of the Women's Educational Center (WEC).
"Michelle's knowledge of educational theory and policy are essential to meeting the needs of a dynamic and an ever-evolving student population," noted Vice Chancellor Sekelsky. "During her tenure at UM-Flint, Michelle has capably served on the Diversity Task Force for Strategic Planning, Student Affairs Social Justice Team, Housing Safety Work Group, LGBT Center Advisory Board, Selection Committee for the director of Public Safety, and YWCA Board of Directors. The breadth of these experiences speak to her preparedness, and bode well for her ability to meet future challenges. Of particular importance in our current climate are federal mandates such as Title IX, where Michelle's expertise is invaluable."
Rosynsky's 20 years of experience in developing and implementing co-curricular programs have prepared her well for her new challenge.
"Students are at the center of the work that I do and I am committed to their success, as well as to the university's mission of academic excellence, student centeredness, and civic engagement," stated Rosynsky. "I have always considered myself to be a student affairs professional, and as such I am committed to providing students with transformative learning experiences that promote knowledge and skill development, exploration of self and reaching one's full potential, respect for various cultural and social perspectives, as well as informed and ethical decision-making."
Contact University Communications & Marketing with comments, questions, or story ideas.