UM-Flint Takes Dance to Flint Schools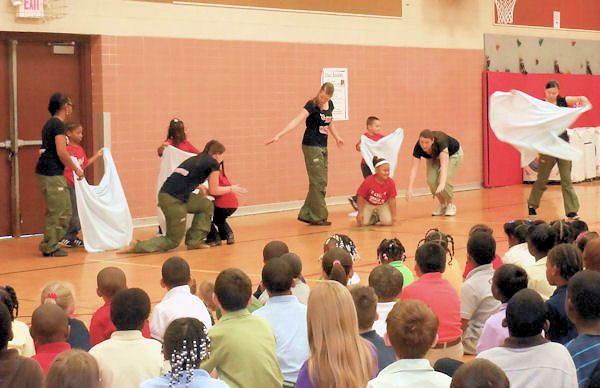 When you do something you love, very often you want to share it with others.  That's just what University of Michigan-Flint dance students are doing with elementary school children in Flint Community Schools.
In January 2012, the dance program began the Dance in Schools Project, which takes UM-Flint students to various elementary schools around the community. During the year, the students worked with Eisenhower Elementary, Durant-Tuuri-Mott Elementary, Pierce Sarvis Elementary, and the Early Childhood Development Center (ECDC) located on campus.
"This type of outreach program not only provides our students with hands-on teacher training; it also provides a much need service to the elementary schools," said Dance Lecturer Elizabeth Kattner, Ph.D.
According to Kattner, because of budget problems, many fine arts programs have been cut in Flint schools.
At Eisenhower Elementary this semester, UM-Flint students in the Art of Teaching Dance did a weekly dance class with a group of first- through fourth-graders. As a special way to culminate the program, earlier this month, the students performed with the children who had taken the dance class. All total, about 300 children and 50 adults attended this special performance. The event was made possible by the Greater Flint Arts Council with generous funding from the Ruth Mott Foundation.
Plans are already in place to continue the outreach activity next semester.
Contact University Communications & Marketing with comments, questions, or story ideas.