Chicago Art Professor Named UM-Flint Winegarden Visiting Professor
James Elkins, Ph.D, the E. C. Chadbourne Professor in the Department of Art History, Theory, and Criticism, in the School of the Art Institute of Chicago, has been appointed as the 2012-13 Myron and Margaret Winegarden Visiting Professor at the University of Michigan-Flint.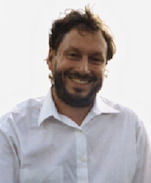 Elkins grew up in Ithaca, New York where he earned his B.A. degree in English and art history from Cornell University in 1977. He went on to earn an MFA in painting, an MA in art history, and his Ph.D. in art history from the University of Chicago. Since 1989, he has taught in the School of the Art Institute of Chicago, and since 1999, he has held that institution's E. C. Chadbourne Chair in the Department of Art History, Theory, and Criticism. In 2008, he received an honorary doctorate from Göteborg University in Sweden.
Professor Elkins is the author of 19 books, over 100 articles, and has edited several other volumes. His writing focuses on the history and theory of images in art, science, and nature. While some of his books are exclusively on fine art, others focus on scientific and non-art images, writing systems, archaeology, and natural history. Professor Elkins' other interests include microscopy, optics, stereo photography, playing piano, and winter ocean diving.
Elkins' work not only spans the arts and sciences, but it has also focused on the impact of globalism on his discipline. The questions that Professor Elkins asks, and the interdisciplinary context within which he frames his answers, place his work at an exciting crossroads in a world growing daily more image-rich and more image-dependent. The number of images encountered by today's students surely dwarfs, exponentially, the number that most faculty members had seen by the same age. In this changed world, so dazzling and so dizzying, James Elkins offers new ways to think about what we see, and new ways to see it.
Elkins will be visiting UM-Flint during the Winter Semester. There will be opportunities to meet with him and learn about the broad spectrum of his research. Among other events, he will give public lectures, lead a faculty seminar, and make classroom visits. To learn more about the newest Winegarden Visiting Professor, visit his web site at www.jameselkins.com.
Professor Elkins was nominated by Professor Steve Bernstein, Ph.D., UM-Flint Department of English.
Contact University Communications & Marketing with comments, questions, or story ideas.