Coloring Book Created by UM-Flint Students Distributed to Area Schools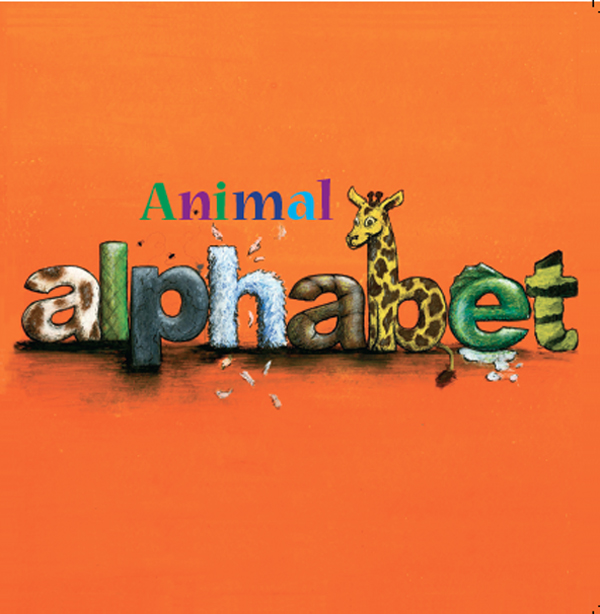 Your assignment: create a coloring book for preschool children.
Start by selecting two letters from the alphabet. Next, create an animal to match each letter. Then draw the animal performing actions that also match the letter. Also, make sure your drawings will blend cohesively with your 13 classmates' drawings of 24 other letters.
For the students in Lecturer II Alla Dubrovich's "Introduction to Illustration" class last fall, the assignment worked out very well.
The coloring book project was something Dubrovich had been considering for almost three years.
"The coloring book idea came to me because I wanted my students to concentrate on a book that targets a specific audience, an age group that is very different from their own, and requires research and adjustment," said Dubrovich. "It's all about artwork and having the students work on a collaborative project that requires them to give 100% effort for it to work."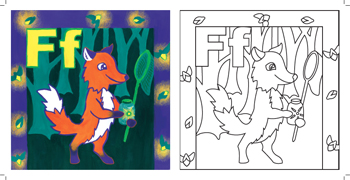 The students were challenged by trying to determine what drawings would be most appealing to very young children. They had to put themselves in the shoes of a preschooler, or if lucky enough to have younger siblings, ask them for input.
For student Adam Robinson, it was his own children who helped him with his research for the book's cover illustration, "I have two young daughters who associate animals by their patterns, colors, and textures. I wanted to incorporate all three into the work."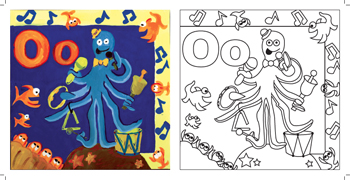 Other considerations that went into creating the 50-page book included gender, cultural issues, and "the psychology color." It was decided just to keep them bright and pure.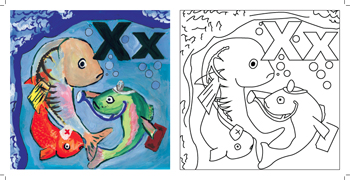 The books were printed in-house by UM-Flint Printing Services. The project was funded with an Annual Fund grant through the Office of Development and Alumni Relations.
"This project has encouraged our art students to think outside their own comfort zones," commented College of Arts and Sciences Dean D.J. Trela. "It also gives UM-Flint a stronger connection with community schools. It is a creative and constructive form of community engagement that brings art into the schools."
Recently, Dubrovich delivered a number of the books to the Flint Community Schools. She met with LaDonna Gamble, a project director for 21st Century Schools. She thinks the books will work well in the After School Kindergarten program.
"The pictures in the coloring book will make good discussion aids for our pre-K children," noted Gamble. "I think the book is something that can be used to build a curriculum around."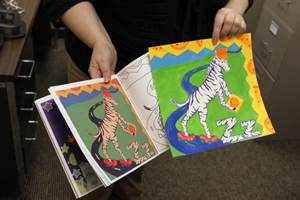 While Dubrovich is pleased with the results of her students working together, in her next big class project she would like her students to collaborate with students in other departments. An example might be an illustrated children's book with her students doing the drawings and other students writing the story.
"This project exceeded my expectations," recalled Dubrovich. "All the students, regardless of ability, made a major effort for it to succeed. It was great teamwork."
Contact University Communications & Marketing with comments, questions, or story ideas.