Critical Issues Forum Draws Large Community and Campus Response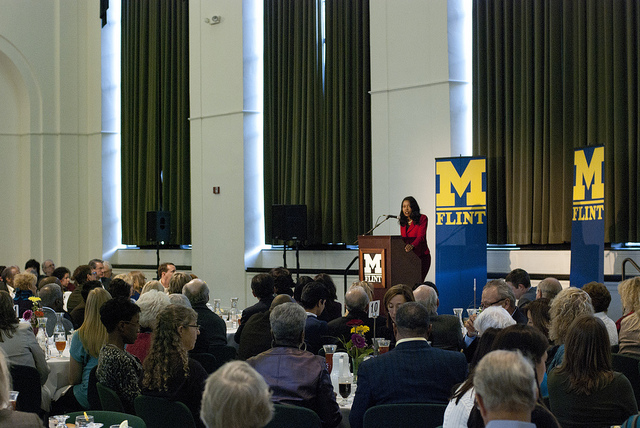 Award-winning journalist Isabel Wilkerson opened the 2012 Frances Willson Thompson Critical Issues Forum (CIF) to a packed morning audience of campus and community members as part of CIF's new Sullenger Dialogues.
Wilkerson spent 15 years researching and interviewing more than 1,200 people for The Warmth of Other Suns, a work of narrative nonfiction that tells the epic story of three people who made the decision of their lives in what came to be known as the Great Migration.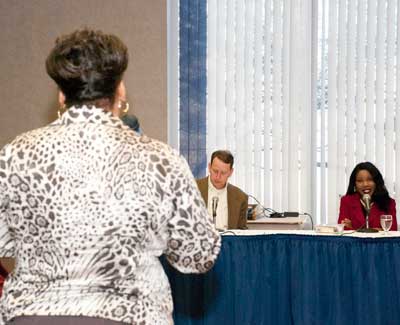 Her noon-hour presentation at the CIF luncheon drew nearly 300, and was live-streamed to campus on the internet via Mediated Classroom Services. Plans are for all of this year's CIF presentations to be streamed to campus.
The Frances Willson Thompson Critical Issues Forum is a UM-Flint tradition that began more than 30 years ago. UM-Flint's webzine Pillars recently chronicled the many renown speakers and important topics discussed over the years.
The next CIF will be held on March 21 and will feature the author of The Elegant Universe, Brian Greene, one of the world's leading theoretical physicists.
2012 Critical Issues Forum:
March 29: The battle over water is the life's work of Maude Barlow, a leading advocate for water rights.
April 3: Cary Nelson is known not only as a blunt and devastatingly witty commentator on higher education but also as an activist working hard to reform it.
April 11: Nate Silver is a math genius and celebrated baseball statistician whose uncannily accurate Presidential election forecasts have shaken up the world of political polling.
April 26: William McDonough is an internationally renowned designer and one of the primary proponents and shapers of what he and his partners call "The Next Industrial Revolution."
Contact University Communications & Marketing with comments, questions, or story ideas.