Holocaust Display in UM-Flint Library Features Stories of Local Residents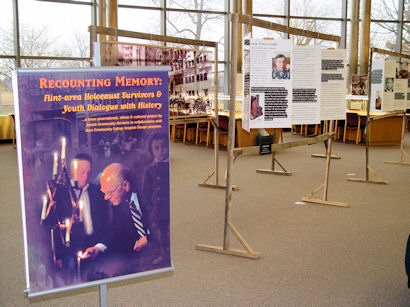 An exhibit about Holocaust survivors in the Flint area is currently on display in the University of Michigan-Flint Thompson Library atrium.
The exhibit, Recounting Memory: Flint-area Holocaust Survivors and Youth Dialogue with History, is an oral history project which brought together area students and Holocaust survivors. Students and faculty at Mott Community College in Flint collaborated with area high school students and with staff at Flint's Jewish Community Services to capture the stories of Flint-area Holocaust survivors who were immigrants from the former Soviet Union.
The exhibit features first-hand accounts of survival during World War II that were retold by five community members who lived through this period as young children. Two of these community members spent the early 1990's working in the Thompson Library, bringing the stories very close to home for UM-Flint.
The students who helped conduct the interviews heard stories of survival, hope, and overcoming racial and ethnic persecution, topics that still resonate loudly in today's world.
The exhibit will remain in the library Atrium until March 11.
Contact University Communications & Marketing with comments, questions, or story ideas.