UM-Flint PT to Partner with Ann Arbor VA to Provide Special Training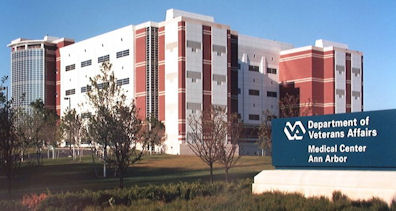 The University of Michigan-Flint Physical Therapy (PT) Department has been selected by the Veterans Affairs (VA) Ann Arbor Healthcare System to prepare physical therapy residents for advanced specialty practice.
This program is aimed at developing advanced physical therapy practitioners who care for the whole patient, and are prepared for board certification in cardiovascular and pulmonary physical therapy by the American Board of Physical Therapy Specialties.
UM-Flint is the first university in the country to work with the VA on the Cardiopulmonary PT Residency. Only six universities were selected this year to provide special training.
"We chose UM-Flint because of the caliber of the faculty, and the positive relationship we (Ann Arbor VA) have had over the years," said VA Residency Director Alexandra Sciaky, PT, CCS. "Only six universities were selected this year to provide special training in other medical areas."
"We are pleased that the VA selected the UM-Flint Physical Therapy Department to partner with them in training much needed Cardiopulmonary Physical Therapists," said Cindy Pfalzer, UM-Flint Physical Therapy Department co-director. "We will provide online didactic course work, and the Ann Arbor VA provides the clinical mentoring and teaching."
The resident will also participate in periodic specialty clinics, as well as research and program development involvement, and a variety of teaching opportunities at the VA Ann Arbor Hospital and University of Michigan-Flint throughout the year.
Applications are due March 15, with interviews in April and a final decision by April 30, 2012.  Candidates can apply as students but need to have a plan to graduate and become licensed physical therapists by the start date of the residency rotation in July 2012. Candidates interested in applying for the Cardiopulmonary PT Residency are encouraged to contact Residency Director Alexandra Sciaky at  Alexandra.sciaky@va.gov or (734) 845-3809 for an application and/or more information.
Contact University Communications & Marketing with comments, questions, or story ideas.