UM-Flint Helps to Connect Area Youth to Nature through Photography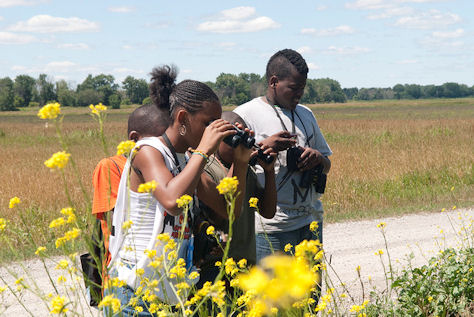 The Udall Foundation, in partnership with the University of Michigan-Flint University Outreach program, recently launched a pilot Parks in Focus (PIF) program to introduce 10 youth from the Boys & Girls Clubs of Greater Flint to area parks through digital photography. Over the last few weeks, participants have explored Ligon Outdoor Center, Max Brandon City Park, Bluebell Beach County Park, Stepping Stone Falls, and the Shiawassee National Wildlife Refuge. The program culminated with a weekend camping trip to Bay City State Recreation Area (August 19-21).
Participants got their hands and shoes dirty as they camped, hiked, fished, explored, and photographed the Bay City State Recreation Area.  For middle-school youth who rarely venture beyond their neighborhoods, a program like this can open windows of story-telling and self-expression, it can spark a new interest in science and nature, and it can, ultimately, change lives.
"They will learn about the natural history of Saginaw Bay Region, be introduced to people who work within the park, as well as work on their team-building skills," said Outreach's Danielle Gartner. "The participants use photography to explore the world around them, interpret what they're seeing, and create the story they want to take back home through the images they capture."
"In all my years at the Boys & Girls Club of Greater Flint, I have never been a part of a partnership and program like the Parks in Focus program," said Tauzzari Robinson, unit director.  "Without a doubt the most rewarding experience has been seeing the change in self-esteem and confidence in the club members as they learned how to take beautiful photographs and how to camp in the wild."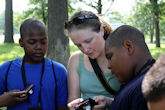 The Flint program was initiated by University Outreach at the University of Michigan-Flint. University Outreach works to facilitate learning and engagement through thoughtful collaboration and partnerships with campus and community.  Additional support was provided by Michigan State Parks, REI of Ann Arbor, and a grant from the A.G. Bishop Trust. Thanks to the A.G. Bishop Trust, students got to keep the digital cameras they used on their trips.
Some of the photos from the Parks in Focus program can be viewed on flickr:
http://www.flickr.com/photos/parksinfocus/sets/72157627495292588/
The mission of the Stewart L. Udall Parks in Focus program is to connect underserved youth to nature through photography. Tucson, Arizona is home to the flagship program (and the Udall Foundation); though trips are run and community initiatives are being developed in additional states. In 2011, the Udall Foundation will support programs in California, Michigan, and Montana. To date, over 400 underserved youth have completed PIF with 175 expected to participate in 2011
Contact University Communications & Marketing with comments, questions, or story ideas.