Faculty and Staff Train to Keep Eyes on the Sky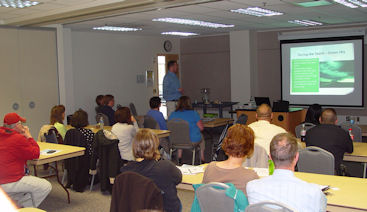 Michigan's weather can, at times, be unpredictable.  While technology has greatly improved to better predict the weather, trained observers still play an important part in issuing severe weather warnings.  The National Weather Service (NWS) relies on reports from volunteer SKYWARN spotters that provide "eyes on the sky" for timely and accurate severe weather information.
Recently, a large number of UM-Flint faculty and staff received special training to be SKYWARN spotters. The Environment, Health, and Safety Department hosted National Weather Service trainers, Karen Clark and Phil Kurimski, to conduct two SKYWARN classes. Forty faculty and staff, including Department of Public Safety employees from all three shifts, received the training. The subject matter covered in the class included how thunderstorms develop, storm structures, potential severe weather features, and how to properly report to the weather service. Special instruction was also given on severe weather safety.
Severe and sometimes deadly weather has been an almost daily item in the news.  Often the tornados that leave a large path of destruction are compared to a tornado that struck in 1953 just several miles northwest of the UM-Flint campus.  Wednesday, June 8, 2011 will mark the 58th anniversary of the Beecher tornado, now the tenth deadliest in U.S. history.
If severe weather, such as a tornado, threatens the campus area, the UM-Flint Emergency Notification System will be one of the ways a warning will be issued. Are you signed up to receive a notification? Visit the UM-Flint Campus Emergency Center to sign up.
The University of Michigan's UM-Weather is one of the most popular weather websites.
Contact University Communications & Marketing with comments, questions, or story ideas.